Batman v Superman:
Dawn of Justice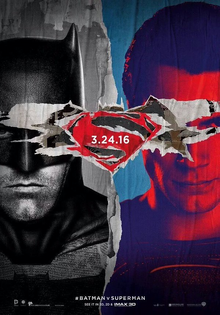 Dados
Título
Batman v Superman:
Dawn of Justice
Tradução
Batman vs Superman:
A Origem da Justiça (BR)
Batman v Superman:
O Despertar da Justiça (PT)
Dados técnicos
Diretor
Zack Snyder
Estreia
25 de Março de 2016 (Cinema)
28 de Junho de 2016 (Estendida)
Continuidade
Batman v Superman: Dawn of Justice é um filme de 2016, dirigido por Zack Snyder. É o segundo componente do Universo Estendido DC. Dá continuidade à história iniciada em Man of Steel (2013).
Após o Evento Zero Negro, a existência do Superman é conhecida pelo mundo e, embora tido pela maioria como um grande herói, muitos o vêem com desconfiança e rejeição, alguns culpando-o pela invasão de Krypton. Pertencendo ao segundo campo, o Batman decide neutralizar aquilo que considera uma ameaça latente e começa uma guerra contra o Homem de Aço. Dos bastidores, todos os eventos são manipulados por um perigoso terceiro interessado na destruição de ambos.
Enredo
Nota: esta sinopse terá por base o "Ultimate Cut", a versão definitiva do filme.
Elenco
(Elenco restante na ordem dos créditos)
(Participações especiais)
Galeria
Pôsteres e capas
Capas
Promocionais
Behind the scenes
Arte conceitual
Community content is available under
CC-BY-SA
unless otherwise noted.