Earth-19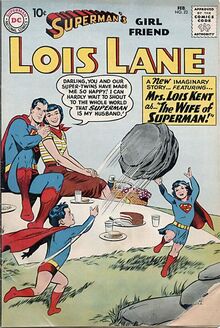 Earth-19
é uma das várias terras presentes no Multiverso Pré-Crise.
História
Earth-19 era um dos universos pré-crise. Nesse universo, Superman se casou com Lois Lane, e mais tarde viria a ter os super-gêmeos Larry e Carole Kent.
Esse universo foi provavelmente destruído durante a Crise nas Infinitas Terras, e depois, foi possivelmente salva da destruição no evento Convergência.
Personagens
Curiosidades
Mr. and Mrs. Clark (Superman) Kent! and "Lois Lane's Greatest Rival!" foi originalmente publicada como uma história imaginada, que não fazia parte da continuidade regular. No entanto, nas Crise nas Terras Infinitas ela foi mencionada como um universo a parte.
Community content is available under
CC-BY-SA
unless otherwise noted.