The Dark Knight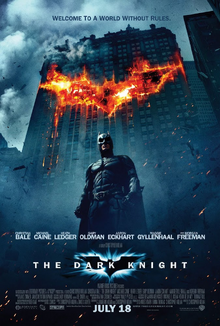 Nomenclatura
Título
The Dark Knight
Tradução
Batman: o Cavaleiro das Trevas

*


O Cavaleiro das Trevas

*
Dados técnicos
Continuidade
The Dark Knight é um filme de 2008, dirigido por Christopher Nolan. É o segundo capítulo da trilogia do Cavaleiro das Trevas, continuando a história iniciada em Batman Begins (2005) e seguido por sua própria continuação em The Dark Knight Rises (2012).
Personagens
Os principais personagens de The Dark Knight.
Heróis
Vilões
Aliados
Outros
Community content is available under
CC-BY-SA
unless otherwise noted.