The Dark Knight Rises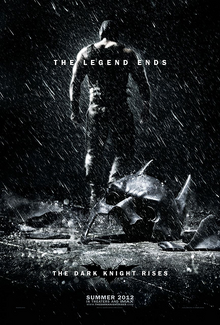 Nomenclatura
Título
The Dark Knight Rises
Tradução
Batman: o Cavaleiro das Trevas Ressurge (BR)
O Cavaleiro das Trevas Renasce (PT)
Dados técnicos
Continuidade
The Dark Knight Rises é um filme de 2012, dirigido por Christopher Nolan. É o terceiro e último capítulo da trilogia do Cavaleiro das Trevas, concluindo a história iniciada em Batman Begins (2005) e continuada em The Dark Knight (2008).
Após a morte de Harvey Dent, Bruce se retira do combate ao crime e passa a viver em reclusão. Entretanto, oito anos depois, uma tempestade se aproxima: com os cidadãos de Gotham City indefesos diante da nova vinda da Liga das Sombras e sob a ameaça de Bane e da misteriosa Mulher-Gato, o Batman precisa ressurgir uma última vez.
Community content is available under
CC-BY-SA
unless otherwise noted.